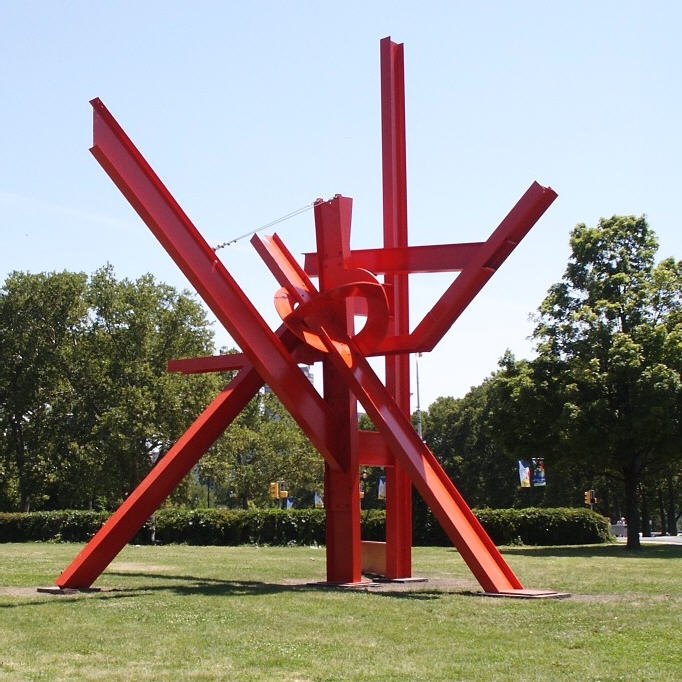 I meant to do this last Sunday too, so I've saved up some older things. I was very encouraged this weeks to see Darcy's
repost
(as reported in the New York Post) on The NY Times' TimesSelect pay disservice soon becoming a thing of the past.
This past week I saw some excellent live shows and had a few new cultural experiences which I thought I would relate through links. I saw Aretha Franklin on Monday night. Dan DeLuca of the Philadelphia Inquirer has that
review
. I had a crappy seat (I was standing) but I can attest to the almost completely African American crowd. It was awe-inspiring that so many people would come out to a concert on a Tuesday night. I have to say that the way she ended her performance was very anti-climactic with umpteen reappearances on stage for bows as the emcee indefatigably pronounced "the queen of soul...the empress of music...Miss Aretha Franklin," over and over and over. I should note that my buddy
Jason Marshall
, who I played in different saxophone sections with in high school was called in for the gig (I don't believe it was his first with Aretha; he operates in those circles). The "impressively tight band" which DeLuca references played a fitting musical interlude when Ms. Franklin took her unexpected 10-minute mid-show break with Philly native Benny Golson's "Killer Joe." The tenor and alto saxophone solos on the big band interlude were very impressive. No names were mentioned, of course.
And on Tuesday night I saw violinist
Jenny Scheinman
with
Jim Black
,
Todd Sickafoose
and
David Tronzo
(who was sitting in for a sick and thus sidelined
Nels Cline
who had to cancel last minute). They played to a packed International House filled with all ages and musical impetuses. You had your guitar headz expecting Cline (who was given top billing along side Scheinman in all the marketing outreach (mostly email-based). You had your drum headz to see Jim Black, a legend of the now (sort of) defunct "downtown" scene (much of that music has moved to Brooklyn these days, including Scheinman's weekly Tuesday night gigs at
Barbès
). You even had a few folkie chicks and fellas in birkenstocks who knew that Sickafoose (and Scheinman herself) have been known to play with that righteous babe named Ani (though they may have been true Scheinman fans, I suppose). David Adler has the
scoop
on this show. It was very enjoyable.
Maria Schneider
has another new large ensemble recording through artistShare (note how I didn't say "on artistShare." It's not a label, people. It's a business model), which is generating some nice
attention
.
ArtistShare
has been a major boon to Ms. Schneider's career. I am deciding which participant offer I want to enroll in or if I just want to buy the CD with the deluxe
booklet
(that is, if any are still available).
Also, I've been reading some magazines that I've always wondered about but never seriously read before. The current issue of
Harper's
has a brilliant memoir about the shared cultural experience among middle and upper class boys and girls - sleep-away camp in America. The article was written by New York-based author
Rich Cohen
as a well as a fascinating essay about a contemporary Turkish literary icon named
Orham Pamuk
.
NY Times scribe Nate Chinen journeyed down to the Crescent City to
speak
with trumpeter
Terence Blanchard
in his native environment about rebuilding, his new album on Blue Note and the relocation of the Monk Institute from The University of Southern California to Loyola University in New Orleans.
The first full
day
of the Newport Jazz Festival under new management goes off without a hitch. George Wein is on hand to approve and make the new beer and wine lines run smoother.
This week in the Voice, Francis Davis has a virtual discography of trombonist, musical omnivore
Roswell Rudd
as well as a round-about review of his newest CD
El Espirito Jibaro
(which I have on my stack and have been meaning to get to for a review).
Though I never read him when I lived and went to school in Pittsburgh, Tribune Review jazz and cultural reporter Bob Karlovits does a hell of a lot of writing about jazz on an almost daily basis for the paper. This
feature
is about a good deed he had a hand in, in the name of Art Blakey.
Mwanji has an interesting
exploration
of his perceived associations between content of an album and its packaging.
Everybody in the jazz world has been talking about Keith Jarrett's latest
episode
stepping over the line with his mouth. Though JazzTimes
reported
that the Festival and the city of Perugia, Italy had officially banned Jarrett from ever performing again, industry sources close to the festival are saying that Jarrett and his manager have kissed and made up with the mayor of Perugia and all is well again. I personally wish it weren't. Keith is a brilliant musician, but he needs to take a lesson in reality and have some accountability for his outlandish actions. I think we all "reserve the right" to think he's an imbecile. A musician told me this week he remembers Keith once refusing to start his performance at Umbria or another outdoor festival because it was 68˚F and he will only play outdoors if it is 70˚F or warmer. Who brings a thermometer on stage? However, the
Guardian
and
Idolator
disagree.
Finally, I have recently been taken recently by how ubiquitous
Beyoncé Knowles
is these days in almost every medium I can think of. Even though she's on a major concert tour around the US right now, it is amazing how many different products she can be seen
endorsing
from make-up to soft drinks to her own line of clothing. It is also amazing how many column inches she is occupying in both dailies and alt weeklies, let alone the blogosphere. There was a very interesting
piece
in last Sunday's Boston Globe about this phenomenon as it relates to Ms. Knowles. I do like some of her music and I have to say that she is very attractive. She, her PR people and her personal trainer have done a very good job transforming her into a mainstream sex symbol. And she just keeps on truckin. She doesn't seem to tire from the road or the endless stream of live engagements, awards ceremonies or society functions. And all this without any major scandals that I know of. But I don't really pay much attention to gossip of that nature.
Enjoy these links and maybe comment with some of your own.